TOEFL scores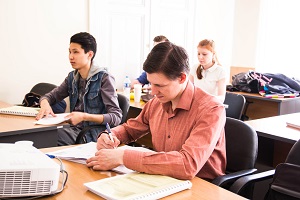 If you're going to pass TOEFL test, you need to know everything about the scoring system if this exam.
iBT TOEFL scores
TOEFL iBT is scored from 0 to 120 points. For each module (Listening, Reading, Speaking and Writing) , you can receive from 0 to 30 points. Your final result is the sum of scores for each of the sections .
If you want to get the positive TOEFL results, you need to answer at least one question of two modules (Listening and Reading) and perform at least one task from module Speaking and write one essay.
PBT TOEFL scores
The overall result can vary from 310 to 677 points. The calculation is based on the intermediate results for each of the three modules of the test: Reading (31-67 points), Listening (from 31 to 68 points) and Speaking (31-68 points). Points for Writing module are not included in the overall result, they're reported separately (0-6 points) as a result of the test TWE (Test of Written English).
Scores of sections Writing, Reading and Listening in TOEFL PBT are exhibited not for the number of correct responses because it can be different levels of difficulty of the questions. Therefore, in the final score for each module it's taken into account the complexity of the tasks and provided more accurate assessment of your English language skills.
How will I know my TOEFL score?
TOEFL scores are published online within two weeks after the test date. In addition, within two weeks after the test the results are sent by mail to the universities and other educational institutions that you've provided in the TOEFL registration form. You can additionally ask for your results after all the scores will be posted online. The answer to your request will be sent by mail, and you will get your results within 7-10 days (if the letter is sent from the U.S.), or within a few weeks for other regions. In connection of this, you should pass TOEFL at least before two or three months of the deadline for receipt of the documents to chosen universities. TOEFL scores are valid for two years, and you can pass TOEFL unlimited number of times .
Passing TOEFL scores
There is no a passing score for TOEFL test, because each university or other institution sets its own requirements (or passing score ) for TOEFL. The minimum result for TOEFL iBT normally varies from 61 points (for example, Bowling Green State University) to 109 (Harvard). Analysis of TOEFL passing scores for the different universities has showed that the average score for the TOEFL iBT is about 74.2 for students and 82.6 for graduate students.
Speaking about TOEFL PBT test results, the highest passing score is 630, while the lowest one is around 450 points.
Follow this easy explanation to calculate your score in each section of the TOEFL:
If you want to receive high TOEFL scores, you should practice every day. Try to solve typical tasks; answer the question, work with your own mistakes, and sooner or later your level of English will become higher.