TOEFL Online tests
TOEFL preparation requires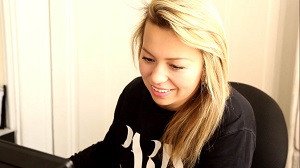 a lot of time and effort which are aimed at improvement of your knowledge and skills. Thus the main feature of your preparation strategy should be its vastness. In addition to expanding your vocabulary and understanding of the English rules of grammar, the applicant must have some specific skills that help to perform the task of TOEFL successfully.
Today the students have the opportunity to use a lot of training materials and resources. However, during TOEFL preparation the main factor is the ability to assess your strength and knowledge, and to make the effective preparation plan. It's no secret that for successful taking TOEFL you need to know English at least at Upper-Intermediate level. Also you have to be familiar with the test itself.
TOEFL exam has four main sections, each of them assess a specific skill. The tasks of each section are written so that it was possible to objectively assess a student's ability to write, speak, read and understand the English speech. You should base your preparation program on the requirements and characteristics of the tasks. The next step includes the selection of the appropriate books and TOEFL online tests for practice.
Watching English movies and TV shows, listening to the audio books and radio in English provides better listening comprehension skills, understanding of the accents, intonations, individual words, expression, and other important details. Good listening skills are essential for doing the tasks of the Listening section. To prepare for the Speaking section it is important to have live communication, with which you can learn how to express your thoughts correctly.
Writing section require a good skill in creating your own texts, whereas Reading covers a wider range of knowledge and skills of the candidate. To perform the tasks of this section you need not only a good vocabulary and skill of reading the printed texts, but also the ability to understand the main essence of the passage, draw your own conclusions, identify key the issues and to understand the basic rules of the English language.
TOEFL iBT Speaking tips:
Using TOEFL online tests during the preparation will help not only to understand the requirements and characteristics of the tasks, but also to receive a good practice. In addition, these resources will assess the real level of your knowledge and make your preparation more effective and efficient.