TOEFL books – what should you buy?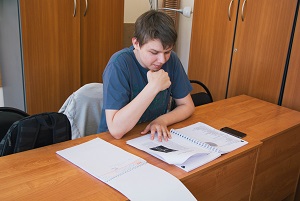 There are different ways to prepare for the TOEFL exam. You can study with a tutor individually or in a group, but you can also try to prepare by yourself. In any case, you cannot do it without TOEFL books, which will help to organize your time. Effective TOEFL preparation materials cover all four sections of the exam: Listening, Reading, Speaking and Writing. At the same time, there are textbooks for specialized training to the individual parts of the exam. They can be particularly useful if you have already passed the TOEFL and want to improve your score in the particular types of the tasks.
Regardless of the level of English proficiency, it makes sense to begin your preparation from the official TOEFL book which has been published by McGraw-Hill (the book is called «TOEFL iBT: The Official ETS Study Guide»).
The textbook was designed by the creators of TOEFL exam - ETS (www.ets.org). It contains:
hundreds of typical tasks with the examples and essay topics,
3 overall authentic tests (on CD-Rom),
valuable tips, exercises for all the sections of the test,
theory for the exam, explanation of the process and scores system of the test,
handbook for writing the essays.
Kaplan TOEFL iBT
This tutorial is released by Kaplan, which specializes in publishing the preparation books for different tests. In addition to this TOEFL book you also receive a disk and:
7 tests which are close to real TOEFL,
training exercises in different sections of the exam,
listening tasks (transcripts dialogues and monologues can be found in the textbook),
good advice from teachers and students.
Barron's TOEFL
This set of Barron's includes two manuals, two textbooks, CD-Rom and ten discs with audio:
Barron's TOEFL iBT (the 14th edition) is written by the famous Pamela Sharpe, PhD. The textbook contains 7 full trial tests. In addition, each question is explained; the answer is accompanied by a commentary. This TOEFL book also includes the examples of the finished essays and responses from Speaking section. The textbook contains all necessary theory for successful passing TOEFL.
CD-Rom contains 7 Sample tests. Doing these tests will allow you to understand your strengths and weaknesses, to feel the atmosphere of this examination.
10 audio CDs are not only help to get acquainted with Listening section, but also contain a record for integrated tasks for Speaking and Writing sections.
Best books for TOEFL test preparation:
Barron's Essential Words for the TOEFL (4th edition) is a great manual that helps to gain the necessary vocabulary that will be useful during TOEFL.